Renato Ratti Barolo Marcenasco 2016 (750ml)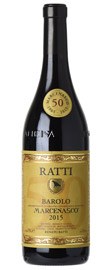 97 pts Wine Enthusiast
Iris, rose, botanical herb and dark spice aromas lead the way in this fragrant red, along with an enticing whiff of graphite. Elegantly structured and boasting youthful tension, the vibrant palate delivers juicy Morello cherry, crushed raspberry, cinnamon and star anise framed in taut, refined tannins. It's balanced and focused, with bright acidity. Drink 2024–2036.

94+ pts Wine Advocate
This is one of the most versatile, accessible and inviting wines to be found anywhere in the Barolo appellation. That is the legacy of this wine, and the Renato Ratti 2016 Barolo Marcenasco proudly carries forward in this tradition. Indeed, it takes it a big step forward, as this is my favorite edition tasted in years. Fruit comes from a single vineyard located just outside the winery door. Marcenasco was farmed by Renato Ratti and his son Piero, and it remains the flagship of this estate. This vintage is beautifully perfumed and vibrant, and the wine tastes terrific just out of the gate. The finish is delicate, tightly knit and feathery light on the palate.

I'm not sure when it happened exactly, but the branding of this estate seems to have transitioned from Renato Ratti to Ratti. I mention that for housekeeping purposes, although I have not yet officially changed the name of the estate in our database. To more important topics: I want to underline that this is the finest set of wines I have tasted from Ratti. I double decanted most of my samples and kept them in my cellar (at 55 degrees Fahrenheit) for about a week after they were shipped to me. I found all these samples to be in glorious and pristine condition. The 2016 vintage is a home run for many estates in the Langhe, but the score jump with these Ratti samples is significant and inspiring.
Code: W19169 Share With Friends