Alion Ribera del Duero 2016 (750ML)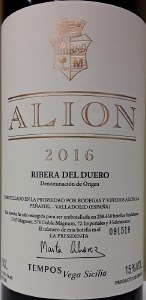 Vega Sicilia is by far the most prestigious wine estate in Ribera del Duero, and perhaps in all of Spain, with an almost mythical reputation for quality and rarity. The property is located 100 miles north of Madrid on a high, remote plateau of Castilla y Leon in the town of Valbuena del Duero. While grape varieties include Cabernet Sauvignon, Merlot and Malbec, all brought from Bordeaux classified growth vineyards by the founder of the estate in 1864, the main varietal is the native Tempranillo. The historical renown of the estate was instrumental in the designation of Ribera del Duero as a DOC (Denominaci?n de Origen) in 1982, putting the region on a par with Rioja.
Three flagship cuvees have made Vega Sicilia legendary: the famed ?nico, followed by ?nico Reserva Especial (a multi-vintage blend) and their entry-level offering Valbuena 5°. These wines are legendary not only for their quality, but also for the prices they command. While we have various releases of these bottlings in stock (please inquire if interested), we are going to focus today on what we could call, Bordeaux-style, the estate's more affordable 'second labels', Alion and Pintia.
Bodegas Alion was formed in 1986 as a winery which would run independently from the main property. Alion is located just down the road from Vega Sicilia and the wine is made from 100% Tempranillo on 85 hectares that were planted in 1986, as well as from younger vines planted at Vega Sicilia. Pablo Alvarez, managing director of Vega Sicilia, calls Alion "a wine somewhere between a Ribera del Duero and a Medoc in style." Alion may be the younger sibling to Vega Sicilia, but is made to the same high standards. It is aged three years before release and meant to drink within the first 15-20 years, though there is no doubt that it can age longer. The 2016 Alion is a fleshy, complex, intense wine, but with that signature Vega Scilia elegance, and with great balance and length. This is a benchmark example of modern style Ribera.

James Suckling, 96 points - "A very savory and succulent Alion with so much complexity of flavor with berries, chocolate and dried meat. Some cedar, too. Full body. Vertical and very long. Purity of fruit and tannins to this wine. Needs two or three years to soften. Release in 2020. Better after 2022."

Wine Advocate, 95 points - "The highly anticipated 2016 Ali?n spent 12 months in oak barrels, 80% of them new and built mainly with French oak but with some 5% American oak, and some 10% of the volume matured in 15,000-liter concrete vats. It hits the scale at 15% alcohol and has moderate acidity, showing ripe black fruit and a creamy texture. 2016 has to be one of the freshest and most elegant vintages of Ali?n, a year with depth, freshness and terrific balance. Same as they do in Pintia, they are finding ways to lower the impact of the oak in the wine; here, they used concrete, and the wine shows more primary and floral aromas and is nicely textured and with fine tannins . . . It was bottled in June 2018."
Code: W19173 Share With Friends