Zarate Tras da Vina Rias Baixas Albarino 2018 (750ml)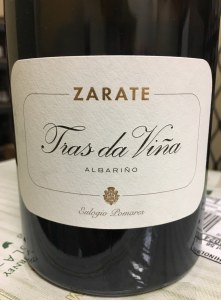 Organic / Biodynamic

Review is on the 2017 vintage.
95 pts Wine Advocate
They didn't bottle the 2016, and it's a wine that is always bottled late and released later than the others, depending on the acidity of the year, so I tasted the 2017 Tras da Viña, which had been kept with fine lees in tank for two years. It's a wine of character, showcasing the austere granite minerality of the Salnés, and it has an electric and vibrant palate with pungent flavors and a sharp texture, long, tasty, citrusy and saline. 2017 was a warmer year than 2018, but there is no heat here at all; it has contained alcohol and very high but integrated acidity, polished by the time in stainless steel. Malolactic was partial, less than normal. It's delicious now and should also last well in bottle. 3,600 bottles produced. It was bottled in May 2019.

Tras da Viña comes from a vineyard planted in 1970 with cuttings from El Palomar. The soil is derived from a decomposed, yellow granite, and it is richer than the other sites. Eulogio leaves the wine on its lees for 30+ months to add textural weight, and a portion usually passes through malo. This may be the most Chablis-like of the three cuvées, and is generally the most accessible at release.
Code: W19258 Share With Friends