Senorio de P. Pecina Blanco Rioja 2018 (750ml)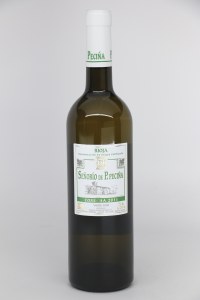 90 pts Wine Advocate
The young white 2018 Señorío de P. Peciña Cosecha Blanco is quite pale, young and fruit-driven, as it corresponds to an unoaked Viura fermented in stainless steel with indigenous yeasts and bottled quite early. It's clean and harmonious, with aromas of white pear and flowers, quite elegant. The palate is fresh, but the wine has weight and fills your mouth; 2018 is a cool vintage and it shows. The flavors are focused and clean, and there is a pleasant bitter twist on the finish. 15,000 bottles were filled in February 2019.

The New York Times Article, In Trying Times, 20 Wines Under $20 That Revive and Restore, by Eric Asimov recommended this wine. Here is his write-up:
"I remember the first time I tried a traditionally made white Rioja, from the producer R. López de Heredia. It was thrilling. I had never had a wine like it before, made with the viura grape and aged in barrels of American oak. Demand for López de Heredia has gone up, as have prices. Nonetheless, few Rioja producers make old-school whites. Hermanos Peciña is one of them. This lovely wine is made of organically grown viura, and offers rich, spicy, coconut-inflected, earthy apple flavors. It's a lovely entry-level wine, not aged nearly as long as a López de Heredia. It will be delicious with fish or poultry in creamy sauces."
Code: W19423 Share With Friends