Dry Creek Fume Blanc Sonoma County 2020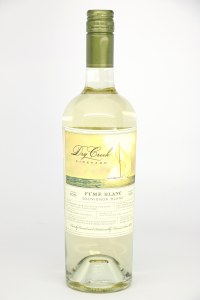 The wine that started it all for the producer, first bottled in 1972, this was 100% stainless-steel fermented and drips in fruity citrus. Lemon pith continues the theme, accented by notes of pineapple salsa and crisp green apple, remaining vibrant and fresh throughout.

The history of Dry Creek Vineyard is a long and colorful one. Founded in 1972 by David S. Stare, Dry Creek Vineyard paved the way for a renaissance of winemaking and viticulture in the Dry Creek Valley. Before his arrival, the Dry Creek Valley was little more than a few family farms and prune orchards. It was Dave's vision to start a Loire Valley inspired winery, which triggered a viticultural reawakening in northern Sonoma County. Today, our second-generation family owned winery continues to evolve and grow to meet the demands of a global wine marketplace. The primary mission of our winery is to produce distinctive wines that overdeliver on quality. For more than 40 years, this pursuit of winemaking excellence has led to many international awards and accolades. With a loyal following of wine club members and customers, the future of Dry Creek Vineyard has never been brighter.
Code: W19444 Share With Friends