Balbo Susana 'Crios' Torrontes Mendoza 2019 (750ML)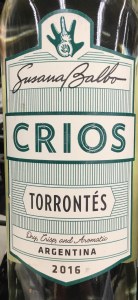 Review is on the 2018 vintage.
90 pts Vinous
Very pale, bright silver. Very subtle, fresh scents of lime blossom and orange peel. This inexpensive Torrontés stands out for its inner-mouth tension, dryness and salty minerality, partly due to the strong calcaire influence of some fruit from vines in Altamira (about 50% of the blend). Notes of citrus peel, menthol and licorice carry well on the finish. Susana Balbo told me that she likes "the greenness, orange peel and flowers" added by Torrontés grown in Mendoza, which she describes as more elegant than the Cafayate version.
Code: W19462 Share With Friends