Domaine de L'Enchantoir 'Le Pied a l'Etrier' Saumur Puy Notre Dame 2018 (750ml)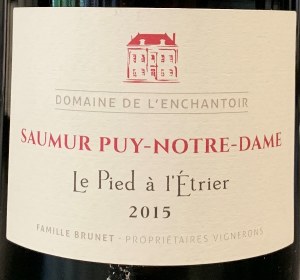 Organic

Review is on the 2017 vintage.
92 pts Vinous
Dark purple. Lovely, classic savory Loire Cabernet Franc nose of graphite and pepper. Yet in the mouth there's lot of rich, dense cherry and plum, coating tannins, good density and a super-savory finish. Rustic and drinkable in all the best ways
.
The nose shows ultra-bright raspberry and black cherry fruit aromas that intertwine with pulverized chalk, lavender, tobacco, and fruity/savory green olive. The complexity continues on the exceptionally juicy, earthy palate. There is more red and black raspberry here, plus loam, chalk, and cured black olive. The tannins are ripe and velvety, the acidity firm, and the finish long. This is begging for lamb chops, but will drink equally well with an iron inflected beet and goat cheese salad. The price is remarkable for a wine of this quality. Stock up and drink up, but try not to drink all of your bottles at once. We are betting that holding onto a few will pay off. PJ

The Le Pied à l'Etrier is all Cabernet Franc, farmed organically on 10.5 hectares of vineyards. The vines are rooted in mostly clay and limestone, the limestone dating back to the late Cretaceous period (that's between one hundred and forty-five million (145,000,000) and sixty-six million (66,000,000) years ago).

Domaine de L'Enchantoir is a small domaine that produces one of the most exciting French wines that we've tasted in recent memory. Their "Le Pied à l'Etrier" is 100% pure, expressive, downright thrilling Cabernet Franc, immediate in its impact yet distinctly old world, and certainly holding secrets to be revealed in time.

If the name Saumur Puy-Notre Dame doesn't immediately bring to mind a specific terroir profile, it is understandable. The AOC was established on October 12th, 2009, and quite simply, there aren't many of these wines in the market. This is the first we have purchased at PJ's, but we are now on the lookout for more. Saumur Puy-Notre Dame is located 20 miles south of Saumur, and there are definite similarities between it and, say, Saumur-Champigny. Most certainly this is due to their geographical proximity and the fact that the dominant cépage of both is Cabernet Franc. It is generally accepted, however, that Saumur Puy-Notre Dame tends to produce more tannic, structured wines. Maybe it's the ancient limestone, maybe the organic farming, indigenous yeast, and minimal intervention, but no matter; this is a wine to drink, hold, and behold. It is constantly changes in the glass, and this character - that is ever so hard to find - is one of the things that makes drinking wine so interesting, and drinking this wine so rewarding.
Code: W19479 Share With Friends