Chateau Simard Saint Emilion 2011 (750ml)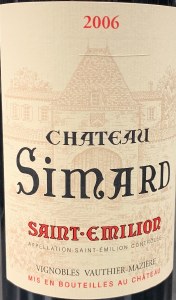 "Brilliant ruby color with some brick notes. The nose has hints of berries, violets and earth. In the mouth, flavors of cassis, black cherry and plum expand within a good, round structure; medium length and plenty of aging potential. Chateau Simard has an enviable address on the sunny southern slopes of Saint-Emilion. Surrounded by the region's first growth vineyards, Chateau Simard's vineyard has excellent exposure and predominantly clay soil mixed with sand and gravel. Chateau Simard's classical, refined style can be attributed not only to its fine vineyard location, but also to its traditional winemaking practices and distinctive aging program. The blend each year reflects the vineyard s makeup of Merlot blended with Cabernet Franc. Elegant and balanced upon release, Chateau Simard expresses its deep roots in Bordeaux famous Right Bank." Winemaker notes

70% Merlot, 30% Cabernet Franc.

With a legacy that dates back to the 17th century, Chateau Simard is located near the ancient and beautiful town of Saint-Emilion. Called the hill of 1,000 chateaux, Saint-Emilion is home to the Right Bank's most prestigious estates. Among the most renowned of these is Chateau Ausone - one of only two estates classified in 1955 as Saint-Emilion Premiers Grands Crus Classes A - which is Chateau Simard's sibling. Chateau Ausone's proprietor, Alain Vauthier, acquired Chateau Simard when his uncle Claude "Coco" Maziere passed away in 2008.
Code: W19582 Share With Friends