Jean Rijckaert Arbois Chardonnay 2019 (750ml)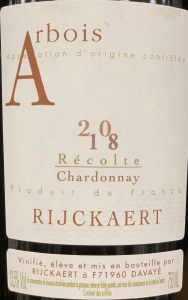 Established in 1998 by longtime winemaker for Verget Jean Rijckaert, who fell in love with the terroir in both the Macon and Jura, this unique estate has cellars and produces wine in both regions. Without heirs, Jean partnered with his brilliant student Florent Rouve and groomed him until he was ready to take over managing the estate and all winemaking in 2013. The "savoir-faire" that made the outstanding reputation of these wines ? restricted yields, manual harvesting, slow and moderate pressings, indigenous yeasts, limited batonnage to favor acidity, long aging ? has been preserved, perhaps even enhanced, with the incredibly talented Florent taking over at the helm of the estate, while Jean consults at key stages in the process. All wines are aged in oak barrels with no racking, stirring or any disruption during elevage. These beautifully crafted wines soulfully represent some of the best in natural winemaking, which aims to express the typicity of the grape and the specificity of the terroir.
Winemaker Notes:
The Arbois Chardonnay is a blend of several single vineyards of Chardonnay, between the villages of Arbois and Villette, which were paired because of their nice complementarity. The conditions in those vineyards are perfect to build the elegant structure and the fine aromas of great white wines.
Code: W19694 Share With Friends