Casanova di Neri Tenuta Nuova Brunello di Montalcino 2016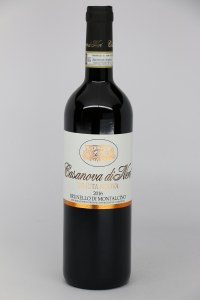 99 pts James Suckling
Aromas of blackberries, cherries, violets and bark with mahogany. It's full-bodied and chewy with intense tannins that are layered and focused. The fruit is pure and purposeful, yet not over done. Wonderful strength and purity to this. Class is the word. Try it after 2024

97+ pts Wine Advocate
This is one of my sweetheart wines from Montalcino. The Casanova di Neri 2016 Brunello di Montalcino Tenuta Nuova offers a long list of aromas on an ever-shifting and fluid bouquet. You get bright cherry, rose potpourri, black truffle, caramel, butterscotch, sandalwood, road pavement and chalky mineral. In fact, each time I come back to this wine, that mineral element seemed to grow in intensity and scope. The wine offers a grounded fruit side that is contrasted nicely against a grounded oak component. The mouthfeel is creamy and long, and the wine shows terrific tannic integration. When you come back hours later, you might find black olive, bresaola and licorice.

96 pts Vinous
The 2016 Brunello di Montalcino Tenuta Nuova drawing you in with a display of exotic brown spice, mint and cedar dust. Further coaxing unlocks depths of cherry, plum, hints of dark chocolate and roses. It coasts along a medium-bodied frame with velvety richness, complemented by polished red and black fruits while contrasted by brisk acids and hints of sour citrus. This coats the teeth in concentration, as if you can feel the pulp, seeds and skins of its fruit, while a layer of fine tannin slowly grounds you back to earth. The Tenuta Nuova already has so much to give, yet it will be many years before it reaches its apex. Wow. Thinking back to my tasting of the 2015, I can't say that the 2016 is necessarily a better wine, just a little less immediate. Either way, both wines are beautiful expressions of vintage.
Code: W19773 Share With Friends