Rosé Wine Tasting
Saturday June 5th
Come join us Saturday June 5 for a rosé wine tasting, the first in many moons. Covid put a damper on our wine tastings for quite awhile, but we are back and better than ever! We will be tasting many exciting new arrivals from our rosé section, bubbly and still, so swing by and officially put 2020 in the rearview mirror.




This upstairs tasting will be formatted a bit differently than in the past, for our safety and yours. If you would like to attend please purchase a ticket, refunded as store credit upon arrival, for your desired time slot. Each time slot will be limited to 25 people and you will have fifty minutes to taste delicious rosés, relax, and converse with your neighbors before we clean up/sanitize and let the next group in. We suggest arriving when your timeslot begins since you will have to exit when it ends whether you just arrived or not. Unfortunately, being firm with exit times is a must to help ensure everyone's safety.




The warm weather is here and what better way to beat the heat than to be tasting cold rosés with your friends, family, neighbors, and us!




See you there.



Session 2:

2:00 - 2:50 pm

Session 3:

3:00 - 3:50 pm

Session 4:

4:00 - 4:50 pm



Face masks are still required and hand sanitizer will be provided. Only one glass per customer.



Past Events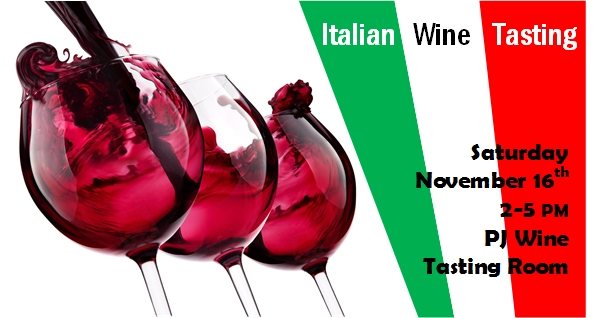 Italian Wine Tasting
Saturday November 16th 2pm ~ 5pm
Back by popular demand, it's our Italy Show! We heard your pleas to put on another Italian wine tasting, as last year was such a hit, so here you go! Saturday, November 16 from 2:00-5:00 pm, we will have a comprehensive look at Italy's wine scene.
Of course, we will have the staples to taste, Chianti, Sangiovese, and Brunello, but also the more obscure, varietals you may not be familiar with such as Freisa, Vernatsch, Grillo, and Perricone. Italy has a multitude of unique varietals, from extremely varied geographical regions, and our tasting is the perfect time to explore them.
Who knows, you might find a new favorite wine, or two, to pair with your Thanksgiving dinner?
See you there!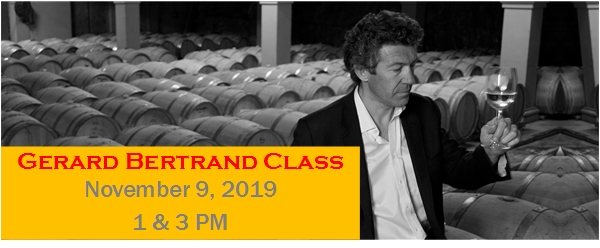 Gerard Bertrand Class
Saturday November 9th 1pm & 3pm
Join us on Saturday, November 9, for a sit-down class on the French wine production region of Languedoc-Roussillon, showcasing the wine estates of Gerard Bertrand. We will have Gerard Bertrand's brand ambassador Matthieu Le Moign in house discussing how Gerard's wines have helped bring Languedoc-Roussillon wines out of obscurity.
We will discuss Gerard Bertrand's commitment to organic farming, and biodynamic practices, in the vineyards to achieve a new level of quality for South of France wines. Gerard is practically single-handedly converting the South of France to organic farming with now thirty wineries under his belt.
This will surely be an eye-opening experience as we taste some of the more prestigious wines Gerard Bertrand produces, such as a mind-blowing Blanc blend, Tautavel, Corbieres and even a Banyuls. What a great way to spend a chilly Fall afternoon!
See you there!


Bordeaux Tasting
Saturday November 2nd 2pm ~ 5pm
Join us on Saturday, November 2, from 2:00 - 5:00 pm, for a fun afternoon tasting our new arrivals from France's classic wine region, Bordeaux. We will be pouring twenty or more bottles ranging from Haut Medocs to Margauxs, red to white, and inexpensive to, well, not so inexpensive.
You will have the chance to experience firsthand the high quality of the 2016 vintage, which we have been enamored with lately. We will have other vintages open as well to show how well these wines age and evolve like only Bordeaux can.
This is going to be so much fun! See you there!
Canary Islands Seminar
Saturday October 26th 1pm & 3pm
If you are a wine lover who is looking to try something new, come join us on Saturday, October 26 for a seminar on the unique viticultural area of the Canary Islands. We will explore their wines while learning how and why they differ from those of mainland Spain and the rest of the world.
These Spanish volcanic islands are truly unique with a topography that soars from sea level to the summit of Mount Teide (highest peak in Spain) at 12,198 feet above sea level. The islands have a surprisingly temperate climate, due to the heat of western Africa meeting with the cooled air from the Gulf Stream. The Canary Islands also have many ancient vines thanks to the phylloxera plague missing them in the mid-nineteenth century.
All of these qualities result in very distinctive wines; reds can be reminiscent of Burgundian Pinot Noir or Mencia from Ribera Sacra, and the whites are distinctive with their minerality and lovely salinity. The wines of the Canary Islands are special and you will experience that first hand.
Seats for this "sit-down" class are limited and always sell out quickly, so if you are interested make sure you reserve your spot today!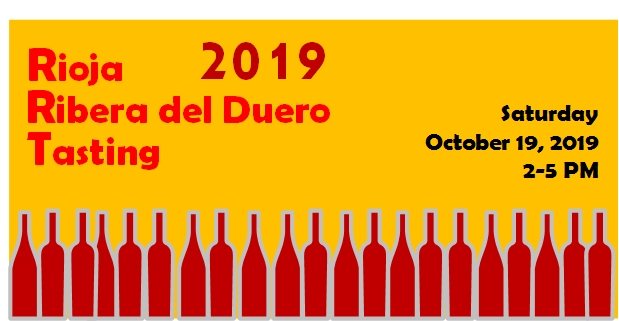 Rioja / Ribera del Duero Tasting
Saturday October 19th 2pm ~ 5pm
It is almost here, our grand Rioja / Ribera del Duero tasting! Mark your calendars, higher a babysitter, call everyone you know and of course reserve a ticket! Our most talked about tasting every year is the Rioja / Ribera del Duero tasting, after all, we are the "go-to" store in New York for Spanish wines!

Join us on Saturday, October 19 from 2:00-5:00 pm and experience first hand what all the fuss is about. We will have a multitude of wine open from Spain's most prestigious wineries. This walk-around tasting will be one to remember!
Ribera del Duero Class with Bodegas Matarromera
Saturday October 12th 1pm & 3pm
On Saturday, October 12 we will have the privilege of hosting the renown Ribera del Duero wine producer Bodegas Mattarromera. Representatives from the winery will be in house teaching a class on what makes Ribera del Duero one of Spain's greatest wine production areas, and how Bodegas Mattarromera excels at making unique character-filled wines within that DO.
Bodegas Matarromera vineyards are located in the heart of the "Golden Mile" of Ribera del Duero, between Valbuena de Duero and Olivares de Duero. This is the area the best Ribera del Dueros come from such as Vega Sicilia, Dominio de Pingus and Bodegas Aalto to name a few.
Join us and you will see first hand that Bodegas Mattarromera is a master of Tinto Fino as we taste through their stellar lineup of wines from Crianza, Reserva and even the rare Gran Reserva (a treat not to be missed).

Iberian Peninsula Wine Tasting
Saturday October 5th 2pm - 5pm
It's almost here! Saturday, October 5 will be our big Iberian Peninsula wine tasting, showcasing the wines of Spain and Portugal. PJ Wine has been New York's home for Spanish wines for decades, so you know this will be a tasting to remember.

Spain and Portugal are as diverse as it gets when it comes to the different regions, micro-climates and varietals of their wine industries. To help showcase this we have given Rioja and Ribera del Duero their own tasting on October 19, so that we can feature that diversity without the distraction of those "heavy hitte" wine regions. Not to mention we have so much incredible Rioja and Ribera del Duero that we had to create a whole separate tasting!

This walk-around tasting of all our new finds from the Iberian Peninsula will be from 2-5:00 pm, on October 5. There will be over forty wines to sample from the likes of Toro, Ribera Sacra, Priorat, Montsant, Rias Baixas, Douro, and Bairrada. What a great way to spend an afternoon!