2020 Vintage Rosé Taste-Off Results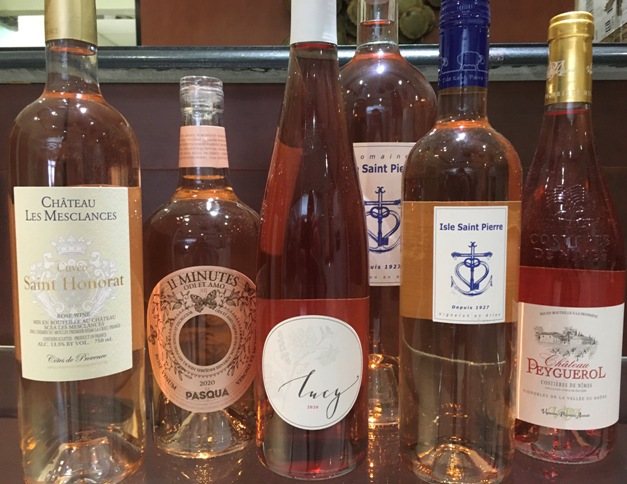 Our annual Rosé Taste-Off had one slight change from years past, no customers. Usually, the taste-off is done by our customers who give the wines their own reviews, however, Covid-19 put a damper on that this year. No worries though, the PJ Wine staff stepped up to the plate and knocked these Rosé samples out of the park, after all, we couldn't let one of our favorite tastings go undone.
The goal of the taste-off is to find the best new Rosés of the vintage (2020). There are many Rosés we carry year in and year out, but here we are looking for something new. We tasted a little over fifty different Rosés from around the world and of different price ranges; the prices were not shown to help eliminate bias. Well, once again the results are intriguing.
The top Rosé this year is a more classic selection than the last few years, it is a Provencal wine named Chateau Les Mesclances Cuvee Saint Honorat Cotes de Provence Rose 2020. This is a new wine to us but boy did it stand out in the crowd. It had way more texture, length, and depth than we are used to from this very popular wine region. After trying this you may never drink whispering angel again!
We are very happy with the results and we know you will be as well. I suggest mixing up a case and doing your own Rosé Taste-Off.
Enjoy!
1. Chateau Les Mesclances Cuvee Saint Honorat Cotes de Provence Rose 2020
Shelf Price $21.99
Sale Price $17.97
Located only three kilometers from the Mediterranean in the commune of La Crau, is at once peaceful and dramatic. The contiguous 30 hectares of organically-farmed vineyards surrounded by forest, two streams (Mesclances is dialect for the confluence of rivers) and a gentle slope to the north lead up to the classic Provencal chateau. This is classic Provencal rosé through and through but what is unique is it's depth of character. There is more going on here than what meets the eye. Chateau Les Mesclances will quickly build a loyal following among those who appreciate this classic style of rosé.
2. Pasqua 11 Minutes Veneto Rose 2020
Shelf Price $15.99
Sale Price $13.97
Hailing from northern Italy and consisting of Corvina, Trebbiano, Syrah, and Carmenere.
The name 11 MINUTES refers to the duration of the skin contact, the pressing of grapes: the full load of grapes is very softly pressed. In this optimal length of time we extract the most noble qualities of the grapes and obtain the slightly rosy shade that characterize this wine. As light colored as it is, it is not lacking in texture nor complexity.
3. Pisoni Vineyards Lucy Pinot Noir Rose 2020
Shelf Price $21.99
Sale Price $18.97
This is a full-bodied rosé of Pinot Noir crafted from cult domestic producer Pisoni Vineyards. The palate explodes with fresh strawberry and cherry notes while finishing dry. "Lucy is born from only estate fruit—a rarity for a rosé. Hand-harvested in our vineyard, the Pinot Noir grapes are then hand-sorted upon arrival at our winery. Small-scale blends are then created for meticulous tastings to discern the best wine, from which we'll create our sophisticated rosé. - Winery
4. Isle Saint Pierre Mediterranee Rose 2020 (750ml)
Shelf Price $10.99
Sale Price $8.97
This is the best bargain rosé we have this year! Delicate and pretty with lively fresh fruit notes that will have you thirsting for more. The wineries vineyards are on an island in the middle of the Rhone river, how cool is that? The main varieties are Merlot, Cabernet Franc, Petit Verdot, Carmenere, and Arinarnoa (a cross between Merlot and Petit Verdot). The rosé harvest undergoes a short skin maceration with complete control of process timing, producing a rosé exclusively from free-run juice.
5. Chateau de Peygeurol Costieres de Nimes Rose 2020
Shelf Price $13.99
Sale Price $11.97
Hailing from France's most southern wine region, Costieres de Nimes, this medium-bodied rosé captivated us with its texture and presence on the palate. This is a big contrast from the delicate provencal rosés, and that's why we liked it. There is also a slight note of spice which is a welcomed change of pace in the realm of southern French rosés. A great find!
Click here for the rest of our Rose