Please enter keywords and/or select from the filtering options below, then click search.
6 products in this category, displaying products 1 to 6.
Abruzzo

Winemaker Notes:
"Intense ruby red color with violet nuances; intense, characteristic bouquet of the primary grape aroma...
Abruzzo
Winemaker Notes:
Rich and ripe dark cherry fruit, along with attractive spicy, smoky notes. Fleshy and full, with surpri...
Abruzzo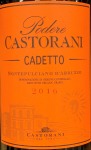 $11.99
$9.97
You Save: 17%
Organic

Ruby red with violet notes, along with a nose of intense red fruit notes, with light hints of spices and chocol...
Abruzzo

$15.99
$13.97
You Save: 13%
Organic

94 pts Vinous
Bright red. Red cherry and flowers on the perfumed nose; much more fragrant than the 2017 Montepu...
Abruzzo

$169.99
$149.97
You Save: 12%
95+ pts Vinous Media
Bright ruby. Precise, spicy aromas of ripe red berries, dark plum and violet accented by cumin and ...
Marche

$16.99
$13.97
You Save: 18%
This dry Italian white is a great example of what Pecorino can achieve. A straw-yellow color with a subtle toasty elemen...