Please enter keywords and/or select from the filtering options below, then click search.
36221 products in this category, displaying products 1 to 24.
Piedmont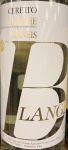 $21.99
$18.97
You Save: 14%
90pts James Suckling:
A crisp and clean white with lemon rind and hints of mineral and stone on the nose and palate. Med...