Please enter keywords and/or select from the filtering options below, then click search.
2 products in this category, displaying products 1 to 2.
Piedmont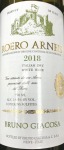 $26.99
$23.97
You Save: 11%
91pts Wine Advocate:
"The 2018 Roero Arneis is a fragrant and linear white wine with plenty of spicy lemon, tangerine an...
Piedmont

$21.99
$18.97
You Save: 14%
Organic

Rather than plant a foreign variety or even Arneis or Cortese, the winery decided to experiment with their Pela...