Please enter keywords and/or select from the filtering options below, then click search.
10 products in this category, displaying products 1 to 10.
Piedmont
$15.99
$13.97
You Save: 13%
Organic

92 pts Wine Advocate
The Oddero 2018 Barbera d'Alba Superiore impresses from the first sip thanks to its richne...
Conca De Barbera
$16.99
$14.97
You Save: 12%
Organic

Located in central Catalunya, Conca de Barbera is well known for its production of cava, but it is also home to...
Piedmont

$23.99
$19.97
You Save: 17%
Organic
Piedmont

"Medium bodied and robust with rich, ripe fruit on the nose and an elegant palate." Winemaker notes

Michele Chiarlo sou...
Piedmont

Tasting Notes:
Color: Bright and deep ruby red.
Perfume: Vinous, fruity, with notes of fresh fruit, blackberry, jam, sp...
Lombardy
$27.97
$25.97
You Save: 7%
"Made from Croatina (45%), Barbera (45%) and Vespolina/Uva rara (10%) grapes. Intense deep ruby-red colour. Full and sli...
Piedmont

$11.99
$8.97
You Save: 25%
On the palate, you will sense it's mid-weight presence and delightful notes of blackberry, plum, and sour cherries. Th...
Emilia Romagna

$21.99
$19.97
You Save: 9%
Organic / Natural

Winemaker Notes:
60% Barbera/40% Bonarda (aka Croatina, not the same Bonarda found in Argentina). Tre...
Conca De Barbera

COSTADOR TERROIRS MEDITERRANI works with organic agriculture only in a singular mountain vineyards (some of them certifi...
Piedmont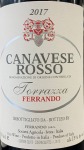 $19.99
$16.97
You Save: 15%
The Ferrando family has produced and traded wine for five generations. Ferrando Vini was founded in 1890 by Giuseppe Fer...