Please enter keywords and/or select from the filtering options below, then click search.
8 products in this category, displaying products 1 to 8.
Piedmont
Conca De Barbera
$16.99
$14.97
You Save: 12%
Organic

Located in central Catalunya, Conca de Barbera is well known for its production of cava, but it is also home to...
Piedmont

"Medium bodied and robust with rich, ripe fruit on the nose and an elegant palate." Winemaker notes

Michele Chiarlo sou...
Piedmont

Tasting Notes:
Color: Bright and deep ruby red.
Perfume: Vinous, fruity, with notes of fresh fruit, blackberry, jam, sp...
Conca De Barbera

$21.99
$15.97
You Save: 27%
COSTADOR TERROIRS MEDITERRANI works with organic agriculture only in a singular mountain vineyards (some of them certifi...
California
$17.99
$15.97
You Save: 11%
LITERS ARE NO LONGER AVAILABLE - 750ml ONLY.

Eric Asimov of The New York Times recently wrote an article: 20 Reds Under...
Piedmont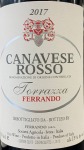 $19.99
$15.97
You Save: 20%
The Ferrando family has produced and traded wine for five generations. Ferrando Vini was founded in 1890 by Giuseppe Fer...
Conca De Barbera
100% Red Sumoll - Sumoll Negre. These vines are 60 years old. Planted around 1954 in clay and stony soil. These grapes a...