Please enter keywords and/or select from the filtering options below, then click search.
14 products in this category, displaying products 1 to 14.
Piedmont
Conca De Barbera
$16.99
$14.97
You Save: 12%
Organic

Located in central Catalunya, Conca de Barbera is well known for its production of cava, but it is also home to...
Piedmont
$15.99
$13.97
You Save: 13%
92 pts Wine Advocate
This is the first vintage in which this wine has become a Superiore. The fruit for the 2016 Barbera...
Piedmont

"Medium bodied and robust with rich, ripe fruit on the nose and an elegant palate." Winemaker notes

Michele Chiarlo sou...
Umbria
$19.99
$17.97
You Save: 10%
Ok, this is not technically rose however, who cares? It is a lively light-bodied red that is bright and extremely fresh....
Conca De Barbera

Organic, Biodynamic

From 100% Trepat vines aged around 60 years old and grapes are hand-harvested. Fermented and aged i...
Piedmont
93 pts James Suckling
Loads of blackberries and blueberries here with citrus peel and flowers. Full body, juicy fruit an...
Piedmont

Tasting Notes:
The color is dark ruby red with violet hues. The nose is a triumph of ripe fruit, with intense aromas of ...
Piedmont

$16.99
$15.27
You Save: 10%
This wine came in second place in our 2018 Rosé Taste Off!

Crafted from Barbera in Piedmont, Italy. The body of the wi...
Emilia Romagna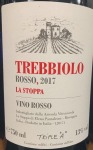 Organic / Natural

60% Barbera/40% Bonarda (aka Croatina, not the same Bonarda found in Argentina). Trebbiolo is made fr...
Piedmont

$18.99
$14.97
You Save: 21%
This came in 2nd out of 100 in our 2017 Vintage Rose Taste Off!

The Damilano family business dates back to 1890 when Gi...
Conca De Barbera

$21.99
$15.97
You Save: 27%
COSTADOR TERROIRS MEDITERRANI works with organic agriculture only in a singular mountain vineyards (some of them certifi...
Conca De Barbera

Costador Terroirs works only using organic and biodynamic practices, on a singular mountain where there are very old vin...
Conca De Barbera
100% Red Sumoll - Sumoll Negre. These vines are 60 years old. Planted around 1954 in clay and stony soil. These grapes a...