Please enter keywords and/or select from the filtering options below, then click search.
2 products in this category, displaying products 1 to 2.
Piedmont

Valle D'Aosta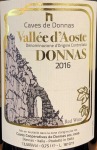 $22.99
$19.97
You Save: 13%
Dark red. Knockout perfume of sour red cherry, iron, dried rose petals and sweet spices. At once creamy and juicy, with ...