Please enter keywords and/or select from the filtering options below, then click search.
5 products in this category, displaying products 1 to 5.
Bierzo

$28.99
$24.97
You Save: 14%
A star is rising in Bierzo! César Marquez Pérez hails from a family with deep roots in the Bierzo wine region. Histori...
Valdeorras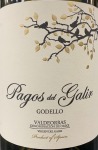 James Suckling, 92pts. - "A very dense and layered white with so much yellow-apple and slate character. Creamy and flavo...
Galicia

$16.99
$14.97
You Save: 12%
90 pts Wine Spectator
This rich white shows density and focus. Pear and melon flavors mingle with lime, quinine and tarr...
Bierzo

From Germán Blanco of Quinta Milú comes this project from Bierzo!

We get tiny amounts of these very small-production ...
Bierzo
Poula is a local word meaning abandoned, the name of this wine is a tribute to the old, abandoned vineyards of the area....