Please enter keywords and/or select from the filtering options below, then click search.
5 products in this category, displaying products 1 to 5.
Austria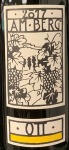 $19.99
$16.97
You Save: 15%
Review is on the 2017 vinrage.
92pts-Wine Spectator:
Lovely aromas of lily, rose, vanilla and coconut accent the peach a...
Austria

90pts- Wine Enthusiast:
"This wine leads with the fruity scent of fresh Conference and yellow pear. Its slightly spritzy...
Austria
$15.99
$13.97
You Save: 13%
Winemaker Notes:
Extremely fragrant with whiffs of juicy mirabelle plum. So seductive and openly expressive with a pleas...
Austria

90pts-Wine Enthusiast:
"Glimpses of golden ripe mirabelle plum and the slightest hint of lovage create a lovely nose and...
Austria
$16.99
$14.97
You Save: 12%
#70 on The Wine Spectator's Top 100 Wines of 2019!
90 pts Wine Spectator
Mineral-driven and well-built, this is bursting...