Please enter keywords and/or select from the filtering options below, then click search.
3 products in this category, displaying products 1 to 3.
Spain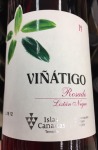 This came in 8th out of 100 in our 2017 Rose Taste Off!

A truly unique experience here, Rose from the Canary Islands! T...
Canary Islands

What: 90% Listan Negro, 5% Vijariego Negro, 5% Baboso. Organic, minimal S02. Stainless steel ferment, aged in Burgundy b...
Canary Islands
$16.99
$14.97
You Save: 12%
Tajinaste is a small family-owned winery located in the Valle de la Orotava. It is on the north side of Tenerife and the...