Please enter keywords and/or select from the filtering options below, then click search.
2 products in this category, displaying products 1 to 2.
Lombardy
$29.99
$25.97
You Save: 13%
The non-vintage Franciacorta Cuvee Brut represents an easy blend of 80% Chardonnay with 18% Pinot Nero and 2% Pinot Bian...
Lombardy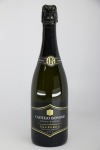 $34.99
$28.97
You Save: 17%
Organic

70% Chardonnay and 30% Pinot Noir that is organically farmed. Bright bouquet revealing more minerality than flo...