Please enter keywords and/or select from the filtering options below, then click search.
12 products in this category, displaying products 1 to 12.
Jerez
Organic / Biodynamic / Natural

100% Palomino
Produced from biodynamically farmed vines planted in albariza soil, in the...
Andalucia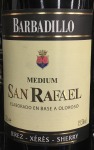 This rich "Amoroso" made from a blend of dry Oloroso and old Pedro Ximenez sherries, aged for 12 years in the traditiona...
Bierzo
Poula is a local word meaning abandoned, the name of this wine is a tribute to the old, abandoned vineyards of the area....
Andalucia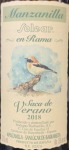 This Manzanilla has been selected from our oldest soleras and bottled "en Rama" meaning directly from the cask. With flu...
Andalucia

94pts Wine Advocate:
"The Lot 38 La Bota de Viejo Cream Bota No is the sequel to the sweet oloroso that was Lot 19. It o...
Andalucia

Equipo Navazos has released Pedro Ximénez Casa del Inca in vintages 2005, 2006, 2008, 2009, 2010, 2011 and 2013. The ve...
Andalucia

"The NV Pena del Aguila Palo Cortado, produced from 25-year-old Palomino vines from albariza soils in pago Miraflores, h...
Andalucia
Wine Spectator:
"Plump and on the sweet side, with golden raisin, date, pear eau-de-vie and peach melba notes, backed by...
Andalucia

96pts Wine Advocate:
"A mind-blowing sherry is the non-vintage Palo Cortado Peninsula Solera Reserva. Like all Lustau sh...
(none)
"The NV Palo Cortado Cardenal VORS, like the whole VORS collection from Valdespino is outstanding. It is fed from the so...
Andalucia
93pts Wine Advocate:
"The NV Matusalem 30 Anos Oloroso VORS used to be sold as Oloroso Dulce, but this category is no mo...
Andalucia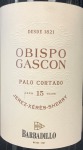 "The NV Palo Cortado Obispo Gascon, produced from Palomino grapes averaging 20 years old, and shows the telltale nose of...