Please enter keywords and/or select from the filtering options below, then click search.
9 products in this category, displaying products 1 to 9.
Priorat
$26.99
$21.97
You Save: 19%
94 pts James Suckling
A layered and very dense Priorat with crushed-raspberry and slate character, as well as black tea....
Priorat
$23.99
$19.97
You Save: 17%
Petit Pissarres is derived from the word "pizarra" which is "slate" in Spanish. The unique soil of Priorat is a critical...
Priorat
A fantastic buy!

The 40 year old vines are grown on terraces ranging from 390 to 450 metres above sea level and the gra...
Priorat

$74.99
$67.97
You Save: 9%
96 pts Wine Advocate
I love the 2015 Clos Martinet, which I find complex and elegant while keeping the Priorat rustic ch...
Catalonia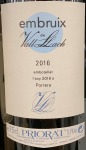 89pts-James Suckling:
The attractive, full plum and cocoa-powder nose leads into a powerful and quite robust palate that...
Priorat

$99.99
$83.97
You Save: 16%
95 pts Wine Advocate
The single-vineyard 2017 Finca Dofí comes from ten hectares that were planted 20 years ago in the ...
Priorat
$119.99
$99.97
You Save: 17%
95 pts Wine Advocate
The wine that used to be the top of the range until the old-vine, single-vineyard Cariñena was rel...
Montsant

$25.99
$20.97
You Save: 19%
90+pts Wine Advocate
The white Garnacha Blanca 2016 Blanc d'Orto was cropped from a very dry year. It fermented after on...
Montsant
Review is on the 2016 vintage.
91pts Wine Advocate
All three colors of wine are produced from vines that grow in the vil...