Please enter keywords and/or select from the filtering options below, then click search.
5 products in this category, displaying products 1 to 5.
Priorat
$26.99
$21.97
You Save: 19%
94 pts James Suckling
A layered and very dense Priorat with crushed-raspberry and slate character, as well as black tea....
Priorat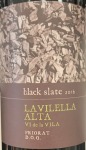 $21.99
$18.97
You Save: 14%
Priorat
$23.99
$19.97
You Save: 17%
Petit Pissarres is derived from the word "pizarra" which is "slate" in Spanish. The unique soil of Priorat is a critical...
Priorat
A fantastic buy!

The 40 year old vines are grown on terraces ranging from 390 to 450 metres above sea level and the gra...
Priorat

$74.99
$67.97
You Save: 9%
96 pts Wine Advocate
I love the 2015 Clos Martinet, which I find complex and elegant while keeping the Priorat rustic ch...