Please enter keywords and/or select from the filtering options below, then click search.
5 products in this category, displaying products 1 to 5.
Southern Rhone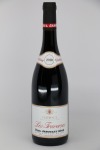 $11.99
$8.97
You Save: 25%
Jaboulet's Ventoux Les Traverses is a classic southern Rhône blend of Grenache (80%) and Syrah (20%), from 35-year-old ...
Ardeche
$18.99
$15.97
You Save: 16%
G.S.M. is an Australian term for a southern Rhône Valley-style blend of grenache, syrah and mourvèdre. Argentina is be...

$9.99
$8.97
You Save: 10%
Is this the best bargain in the shop right now? Could be. Insane amounts of black fruits, chocolate, and heft. It's got ...
Southern Rhone
"Beautiful red color, with purple highlights. With a lot of freshness, this rich and spicy wine offers red and black fru...

"Founded in 1927, Domaine Isle Saint Pierre is located on a small island in the Rhône River. It is run today by fourth ...