Please enter keywords and/or select from the filtering options below, then click search.
2 products in this category, displaying products 1 to 2.

Is this the best bargain in the shop right now? Could be. Insane amounts of black fruits, chocolate, and heft. It's got ...
Costieres De Nimes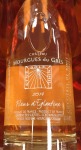 $12.99
$11.67
You Save: 10%
This wine came in eighth place in our 2019 vintage Rosé Taste Off!
This was the richest on the palate of our top ten Ro...