Please enter keywords and/or select from the filtering options below, then click search.
4 products in this category, displaying products 1 to 4.
Alto Adige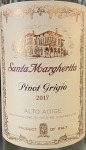 $26.97
$21.97
You Save: 19%
Winery Notes:
-This dry white wine has a straw yellow color. Its clean, intense aroma and bone-dry taste (with an appeal...
Alto Adige
Winery Notes:
This wine is all the rage right now, an international bestseller - especially as a major export to the Uni...
Alto Adige

$13.99
$11.97
You Save: 14%
Winemaker Notes:
Intense yellow in color with subtle copper highlights, this Pinot Grigio offers layered aromas of fresh...
Tre Venezie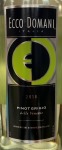 $10.97
$8.97
You Save: 18%
"Ecco Domani Pinot Grigio offers light citrus and delicate floral aromas, tropical fruit flavors and a crisp, refreshin...