Please enter keywords and/or select from the filtering options below, then click search.
2 products in this category, displaying products 1 to 2.
Piedmont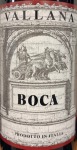 $29.99
$26.97
You Save: 10%
Organic

94 pts Vinous
A total stunner. Sweet tobacco, licorice, black cherry, plum and earthy notes develop with a bit ...
Lombardy
$27.97
$25.97
You Save: 7%
"Made from Croatina (45%), Barbera (45%) and Vespolina/Uva rara (10%) grapes. Intense deep ruby-red colour. Full and sli...