Please enter keywords and/or select from the filtering options below, then click search.
2 products in this category, displaying products 1 to 2.
Piedmont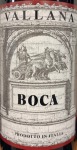 $29.99
$25.97
You Save: 13%
Boca is a hidden jewel! If Gattinara is the King, Boca is the Queen. The best words to describe this wine are elegant, f...
Piedmont
"The flagship of the estate, the Boca is 75% Nebbiolo, 20% Vespolina, and 5% Uva Rara. Spontaneous fermentation takes p...