3 products in this category, displaying products 1 to 3.
American Gin
Aviation is a craft gin from Portland, Oregon. It uses seven botanicals - cardamom, coriander, French lavender, anise s...
American Gin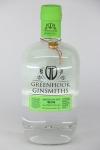 Greenhook Ginsmith's American Dry Gin is made from organic, New York state grown wheat, Tuscan juniper, coriander, cha...
American Gin
Often considered the missing link between Dutch Genevers and modern dry gins, Old Tom Gin was the prevalent style of Gin...