3 products in this category, displaying products 1 to 3.
American Gin
Aviation is a craft gin from Portland, Oregon. It uses seven botanicals - cardamom, coriander, French lavender, anise s...
American Gin
Brooklyn Gin is a craft spirit made in New York with fresh citrus peels and hand-cracked juniper. Brooklyn uses locally...
American Gin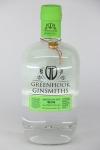 Greenhook Ginsmith's American Dry Gin is made from organic, New York state grown wheat, Tuscan juniper, coriander, cha...