6 products in this category, displaying products 1 to 6.
Alsace
$18.99
$15.97
You Save: 16%
100% Pinot Noir; 100% "methode traditionelle", and 100% delicious. This bright, strawberry and cherry tinged sparkler fr...
Australia

Austria

90pts-Wine Enthusiast:
"Glimpses of golden ripe mirabelle plum and the slightest hint of lovage create a lovely nose and...
Italy
Winery Notes:
"Crisp, clean and delicate with fine bubble caressing the palate. Intense sensations of apples and peaches...
Languedoc-Roussillon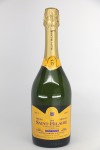 $15.99
$12.97
You Save: 19%
Winemaker Notes:
"More than a century before champagne, the Benedictine Monks of the Abbey of Saint-Hilaire in the South...
Loire Valley
$23.99
$19.97
You Save: 17%
Organic / Biodynamic / Natural / No Sulfur Added

This naturally sparkling Rosé hails from the Loire Valley in France, ...