Since we first opened in 1991, PJ Wine has continuously offered one of the finest collections of Spanish Wine in the country. Outside of Spain, you'd be hard pressed to find the diversity and depth of vintages we have in our cellars. From the mainstay regions of Rioja and Ribera del Duero to the up and coming nooks, such as Priorat and Ribera de Sacra, we source the best Spanish Wine has to offer.
But our vast selection is more than comprehensive, it's a labor of love. We taste Spanish wine on weekly basis and travel to Spain 2-3 times a year to meet with our favorite producers, sample the new vintages, and uncover a few secrets that you'll only find in our store. Drinking vintage Rioja and eating percebes is a tough job, but we're up to the task.
We're also big supporters of Spanish wine, not just because we love the flavors and tactile sensations, but we believe Spanish wine offers the best dollar to wine ratio in the world. That, and we love the country, the people, and of course the food. The bright raspberry of Rioja with chuletillas, the lime zip of Txakolina with kokotchas, or the salinity and sweetness of Amontillado with some olives and almonds…really, does it get any better when it comes to culinary pleasures?
Please check out our selection below, which is constantly updated as we make new discoveries and dig up library releases. And give us a call, or drop us an email if you have any questions or want to compare notes on the wines we carry. We love talking about Spanish wines almost as much as we love drinking them! Cheers – The PJ Wine Team
219 products in this category, displaying products 217 to 219.
Valdeorras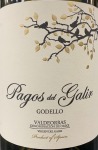 James Suckling, 92pts. - "A very dense and layered white with so much yellow-apple and slate character. Creamy and flavo...
Valdeorras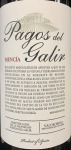 $16.99
$13.97
You Save: 18%
Winemaker Notes:
Intense cherry color with violet hints in the meniscus. Interesting mixture of aromas of red fruits and...
Valencia

Organic
Spanish for saffron, Safra is a wine that shows thegrowing confidence of Pablo Calatayud in the ancient stone la...