5 products in this category, displaying products 1 to 5.
Czech Republic

Galilee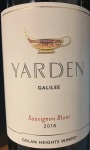 Greece

$38.99
$35.97
You Save: 8%
Organic

"Sigalas is one of Greece's finest white wine producers - in fact, a short list candidate for the best. I wou...
New York
$15.99
$13.97
You Save: 13%
New York
100% Pear from orchard grown and foraged perry pears. High acidity, soft tannins, honey and gooseberry with savory eleme...