Filtered Search:
2 products found, displaying products 1 to 2:
California
Winemaker Notes:
Round. Light. Balanced.
"APRICOT, Lemon, GALA APPLE, subtle oak and SPICE aromas. Lemon drop, white STO...
California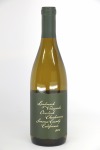 $17.99
$15.97
You Save: 11%
Winemaker Notes:
Yellow lemon in color, the 2018 Overlook Chardonnay has aromas of ripe lemon, baked yellow apple, peach...